Immanual Methodist Church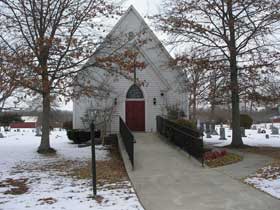 Immanuel Methodist Church is located in Horsehead, Maryland. The Prince George's County Historical Society marker at the site states:
(Built 1879 - burned, rebuilt 1896)
Located on early colonial survey line - "The Golden Race" - Patented to Thomas Greenfield by Lord Baltimore in 1695. One of the earliest Methodist congregations in America. Formerly Smith's Meeting House, 1794-1839, and Emory Chapel, 1840-1879. Part of Prince George's Circuit. Bishop Francis Asbury preached at the meeting house in March 1813.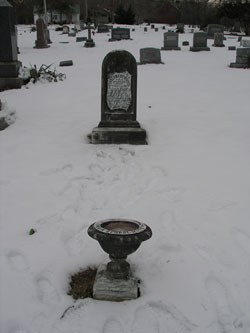 So far only one Selby is known to be buried here.
Emma Selby, daughter of Jesse and Christina Selby, was born October 6, 1860 and died September 2, 1880 just before her 20th birthday. She is buried in the cemetery surrounding Immanuel Church (17400 Brandywine-Aquasco Road; section 4, grave 79). The inscription on her headstone reads: "Erected by the friends of Education of her County and the Faculty of Western Md. College, of which she was a graduate. She was esteemed, a model scholar, beloved for her many Womanly and Christian virtues." The urn footstone reads: "Them also that sleep in Jesus, will God bring with Him."