St. Thomas Episcopal Church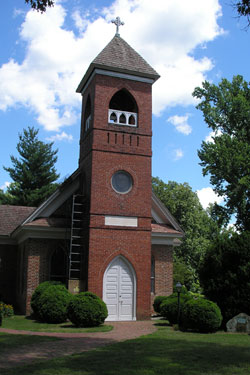 St. Thomas Church in Croom is still an active part of the local community. The Maryland Historical Society marker located there reads:
ST. THOMAS' PARISH CHURCH
Successor to the 17th century Anglican Church at Mount Calvert, this cruciform, brick church was authorized in 1732 and completed in 1745 during the rectorate of John Eversfield, 1728-1780. Built by Daniel Page, it served as Chapel of Ease for the northern part of St. Paul's Parish, Prince George's County, until 1850. Since 1850 it has been parish church of St. Thomas' Parish, Prince George's County.
News article: "In 1888 a brick bell tower was added on the west side of St. Thomas' in memory of Bishop Thomas John Claggett, the first Episcopal bishop consecrated on American soil, and first Bishop of the Protestant Episcopal Diocese of Maryland. Architect Thomas Buckler Ghequier of Baltimore designed the tower in the Gothic Revival style in conformance with plans to 'Gothicize' the entire church. Messrs. W. Whittington, E.J. Selby and John Wilson were the contractors." [Full article in pdf]
The Selby family has long been active in both St. Thomas and it's mission, Church of the Atonement. Attached to the inside cover of Edwin Jeremiah Selby's bible is an obituary for the Rev. Charles Jared Curtis (1847~1925), who served at St. Thomas' Church in Croome, Maryland from 1889 to 1891. [Obituary]
Frank Willes Selby, Edwin Selby's youngest son, appears to have been named after the rector who succeeded Rev. Curtis, Rev. Frank P.Willes, who served the parish from 1892 to 1903.
A copy of many of the parish records can be referenced at the Maryland State Archives in the Special Collections section.