Woodville Methodist Church Cemetery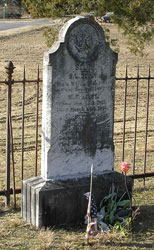 Woodville Methodist Church was located on the west side of what is now known as Croom Road or Rt. 381 in Aquasco, Maryland in the southern toe of Prince Georges County near the Patuxent River. The Church is gone, but the cemetery remains on private property.
An 1861 map of the area shows that Woodville, an earlier name for Aquasco, was once a thriving community with a grist mill/saw mill, wind mill, tavern, school, public house, Episcopal Church, Methodist Church, two doctors, and four stores--one of which contained the post office.
Samuel L. Selby, his wife (Mary Priscilla Susannah Demar) and daughter, Betty, are buried in an area enclosed by a wrought iron fence. Most (and possibly all) of their children and their spouses are also buried here. All of the marked graves appear to be part of, or connected to, the Demar family.
| | | |
| --- | --- | --- |
| | | |
| Woodville Methodist Church Cemetery as seen from Rt. 381 in Aquasco. This is now private property. | Most graves contain members of the Demar family and their relatives. | Samuel Leonard Selby, wife Mary Priscilla Demar Selby, and daughter Elizabeth Selby are inside the family enclosure. |